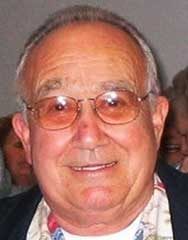 Endorsed by the late Joe Mondello
"I have been flow testing cylinder heads for over 30 years, and have found that without the proper tools you're really just wasting your time. The tools that Thorpe Engine Development makes are top quality pieces. These tools show you what the air is really doing in the port. I use these tools and they are a great asset in my work. The instructions themselves are worth the price of the product. At Mondello Tech Center we have found where to add and/or remove material to correct turbulent air flow in the runners using T.E.D. tooling."
The late Joe Mondello was involved in the automotive industry for well over 50 years. He set benchmarks in the automotive industry in every decade since the 1950's.When he was just 17 years old, in the early 50's, he had ported over 50 Ford flat head cylinder heads! In the early 1960's Joe designed the first combustion chamber that created swirl, known as the "Posi-Flow" chamber. That chamber is still in use today. In 1968 Joe won Car Craft Magazine's Engine Builder of The Year award, and in 1969 won Crew Chief of The Year.
Joe Mondello's involvement in land speed records started at El Mirage and other dry lake beds around southern California, taking him to Utah's famous Bonneville salt flats. Mondello cylinder heads were used by Doug Cook, Jim Lindsay, Kenz-Leslie, Larson and Cummins, Joe Pisano, Nick Arias Jr, Nick Arias III, Leland Kolb, Dean Moon, Mammoth Automotive, Dave Davidson, Ron Bizzio, Ak Miller, Craig Breedlove, and the legendary Mickey Thompson, just to name a few.
Mondello heads set the first drag racing records of 7,6, and 5 second Top Fuel runs and the first 200 M.P.H. runs in Top Gas, Top Fuel, Injected Fuel and Fuel altered classes.
Joe Mondello worked with Honda R&D for six years, and Harley-Davidson from the early 1970's up until the present.
Joe was primarily the one involved in the testing and developing of the first Manley valves for the pro-series classes in drag racing and sprint car engines.
In 1996 Joe was inducted into Hot Rod Magazine's Hall of Fame as one of 100 innovators in racing. In 1997 he won the Lifetime Achievement Award from Super Flow Corporation for his contributions to the high performance industry. In 2002 Joe was awarded Manufacturer Of The Year and he was admitted into the Dry Lakes Racing Hall of Fame as a life member.
Today, drawing on the knowledge and experience of Joe's long years, the Mondello Technical school provides classes on cylinder head design, porting techniques, methods of achieving maximum intake and exhaust velocity, what horsepower is and where you want it, and how and where to achieve maximum torque. Valve shapes, sizes, angles are also covered in the classes.
The two statements that best describe Joe Mondello are; 'Mondello originates, competitors duplicate' and 'Mondello makes horsepower, not promises'.